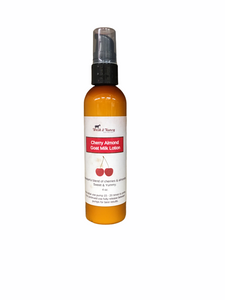 Cherry Almond- Goat Milk Lotion
A moisturizing and nourishing lotion with the great benefits of creamy goat milk.
Cherry Almond Scent - A wonderful blend of cherries and almonds. Sweet & Yummy.
All of our lotions are thick, creamy and perfect for the entire family to use from head to toe, leaving your skin healthy and soft. They absorb well and are not greasy. A little goes a long way.
Ingredients: Distilled Water, Sunflower Oil, Olive Oil, Rice Bran Oil, Coconut Oil, Goat Milk, Mango Butter, Emulsifying Wax, Stearic Acid, Optiphen Plus (preservative - paraben and formaldehyde free), Botanical Fragrance Oil
4 oz. treatment pump style bottle